LIFE CIRTECHTEX PROJECT
Tranemo is one of the participants in the EU project - Implementation of circular economy processes to reduce textile waste in the manufacture of personal protective equipment - LIFE22-ENV-ES-LIFE-CIRTECHTEX
| | |
| --- | --- |
| | The CIRTECHTEX Project's ambition is to uptake circular economy approach to dramatically reduce technical textiles waste generation and upcycle them into high-grade PPE fabrics. The goal of the project is to achieve the recycling of textile waste, using a minimum of 20% recycled pre and post consumer material in a minimum of the 80% of PPEs manufactured. |
The project
Technical textiles are crucial to keep workers safe in high-risk industries such as foundries, petrochemical, electricity generation and manipulation or welding. Those industries need high protective level garments that can prevent burns and injuries (thermal, electric, or chemical). The fabrics for those personal protective equipment (PPE) must meet stringent standards to effectively protect the workers.
During the manufacture of the different PPE fabrics along the textile value chain, several material waste is generated. This waste is highly valuable as it is made of high-performance technical materials, which differs from commodities used in fashion. While at domestic level clothes have their own recycling programs (e.g. European Clothing Action Plan) and regulations (e.g. mandatory textiles separate collection by 2025), those are lacking in technical textiles' sector for industrial applications.
The project will address the circular economy approach at its specific case in the technical fabrics for PPEs' sector, where no similar solutions are yet available. This project ambition is to uptake circular economy approach to dramatically reduce technical textiles' waste generation and upcycle them into high-grade PPE fabrics. The consortium envisions a changing paradigm towards sustainability and commits to an environmentally friendly vision in high-end market segments.
The aim of the project is to achieve the recycling of textile waste from the value chain, using a minimum of 20% recycled material in a minimum of the 80% of PPEs manufactured. These values will be achieved using a waste collection (pre and post consumer) and recycling methodology.
Participants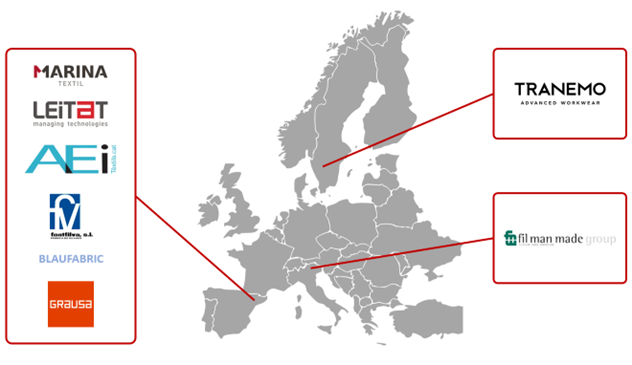 Duration
June 2023 - June 2026
For more information
Marina Textil and the Cirtechtex project 
 

Funded by the European Union. Views and opinions expressed are however those of the author(s) only and do not necessarily reflect those of the European Union or European Climate, Infrastructure and Environment Executive Agency (CINEA).

Neither the European Union nor the granting authority can be held responsible for them.