CAN PROTECTIVE CLOTHING BE MADE WITHOUT PFAS?
The answer is YES! 
But there are still some exceptions and problems to be solved before all our protective clothing is entirely PFAS-free. 
See our complete PFAS-free range here.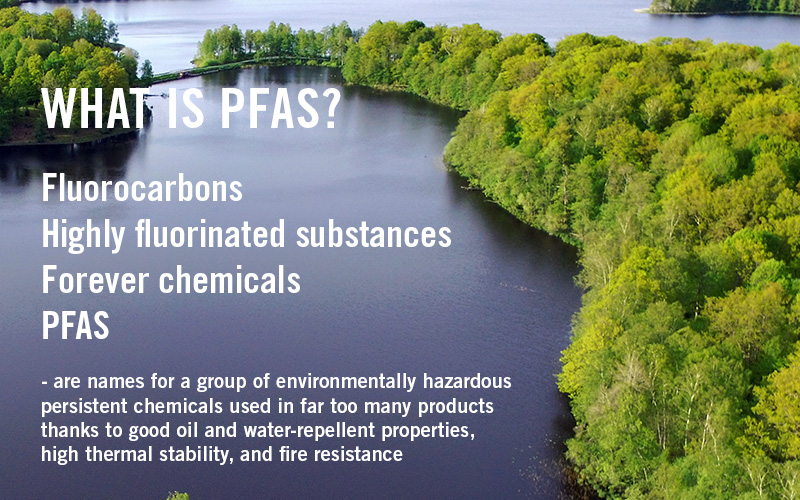 PFAS is an abbreviation for Per- and Polyfluorinated Alkyl Substances (PFAS) and is a collective name for thousands of synthetically produced chemicals with a similar chemical structure. The chemicals are manufactured in industries using chemical reactions, unlike natural materials that can be extracted directly from nature.
At the molecular level, PFAS comprises long carbon chains that bind to fluorine. The fluorine-carbon bond classifies as the strongest existing chemical bond, and due to the stable structure, the chemicals are extremely difficult for nature to break down. PFAS, therefore, have a significant negative environmental impact.
Products containing PFAS leak dangerous substances throughout their life cycle, and the chemicals are spread further in nature, among other things, through groundwater and drinking water. PFAS have been shown to have significant adverse effects on humans and animals and can, among other things, lead to several types of cancer, reproductive problems, dysfunction of the immune system and liver and kidney damage.
WHY ARE PFAS USED IN PROTECTIVE CLOTHING?
Because of their excellent ability to repel oil and oil-based chemicals and protect against high energy values, such as in arc accidents, PFAS has been used for many years. In professions in high-risk environments, the primary purpose is to protect the wearer, which places great demands on the protective clothing.  
PFAS is applied to finished fabrics as an impregnation/finish. Because the chemicals have a high surface energy, they can resist liquids with low surface tension, such as oil, O-xylene and butanol. PFAS also has good film-forming properties and can be used as an alternative to a finish on finished fabrics such as a membrane or laminate. PTFE membrane (Polytetrafluoroethylene) is an example of a commonly used membrane that contains PFAS but gives clothes high water repellency and good breathability. The benefits of PFAS are why they are used as protection in work clothes, despite the knowledge of the negative environmental impact.
Today, it is common to use PFAS in protective clothing with the following certifications:
PROTECTIVE CLOTHING AGAINST CHEMICALS
For protective clothing with chemical protection, PFAS is often used to obtain limited protection in case of chemical splashing against the four chemical groups: acid, base, aromatic hydrocarbon and alcohol.
In standard EN 13034, the repellency of the fabric is tested against 30% sulfuric acid, 10% sodium hydroxide/lye, O-xylene and butanol. To CE mark a garment, the standard EN 13043 only requires an approved result for one of the four chemicals.
OUR SOLUTIONS FOR A PFAS-FREE RANGE
We develop innovative solutions with less environmental impact without compromising the level of protection.
Reducing the use of PFAS is a priority task and a prerequisite for continuing our work towards a sustainable industry.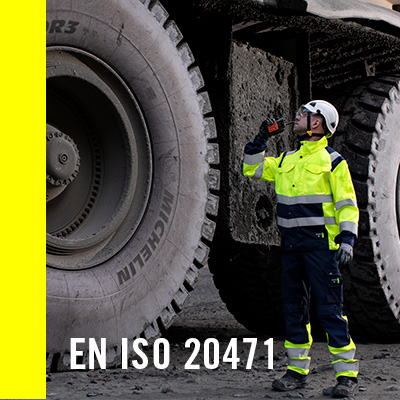 HIGH VISIBILITY CLOTHING CERTIFIED ACCORDING TO EN ISO 20471
>> Main protective feature - High visibility <<
Clothing whose main feature is to provide high visibility does not need a finish with PFAS. Visibility is still maintained through regular washing.
Many wearers wash their garments themselves at home, and any re-impregnation or re-activation of the finish is rarely done. Our tests show that a finish with PFAS is unnecessary because the dirt and water repellency only works on new garments and a limited number of washes. Therefore, our solution is not to finish high visibility clothing but to recommend regular washing.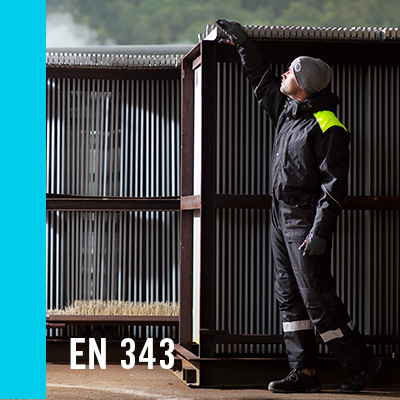 TAPED WINTER CLOTHING AND SHELL GARMENTS CERTIFIED ACCORDING TO EN 343
>> Main protective feature - High water repellency <<
Together with our fabric suppliers, we have developed products with a PFAS-free finish that provides as good water repellency as a finish with PFAS. For the clothes to have good breathability, we use a PFAS-free PU membrane.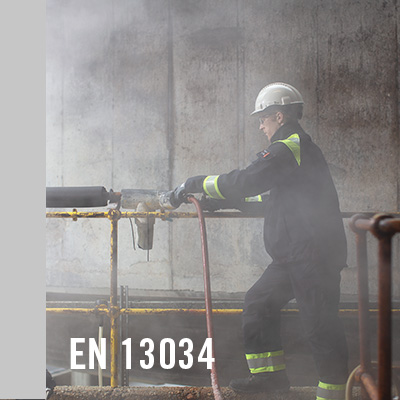 PROTECTIVE CLOTHING WITH CHEMICAL PROTECTION CERTIFIED ACCORDING TO EN 13034
>> Main protective feature - Protection against chemicals in liquid form (acid, base, aromatic hydrocarbon, and alcohol) <<
Through testing and innovation, we have developed products with a PFAS-free finish that works excellently as protection against acid or base, and the finish is therefore used on many of our work clothes with chemical protection. A PFAS-free finish, on the other hand, has a lower surface energy and can only repel liquids with high surface tension, such as acid, base and water.
Several customers require oil-repellent protective clothing or protection against O-xylene and butanol. We have not found any PFAS-free solution for this, making it impossible to phase out PFAS from our protective clothing against chemicals completely. We are working hard to find a solution for this as well.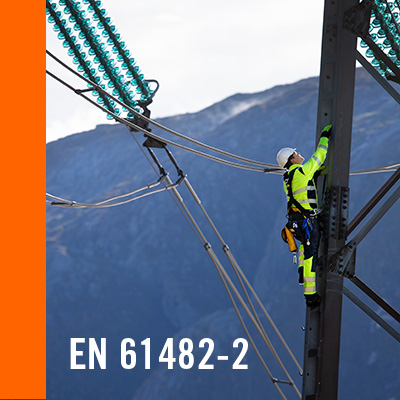 FLAME RETARDANT CLOTHING WITH ARC PROTECTION CERTIFIED ACCORDING TO EN 61482-2
>> Main protective feature - Protection against electric arc and thermal heat <<
Membranes with PFAS are often used for arc-certified shell garments to increase arc protection and reach a higher ELIM value. Despite that, we have decided not to use membranes containing PFAS in our flame-resistant shell garments. Instead, our solution is to use a PFAS-free PU membrane that can withstand flame tests and arc tests for individual garments or in layer-on-layer systems with protection against higher energies.
PFAS-FREE PROTECTIVE CLOTHING FROM  TRANEMO
We are actively working to phase out PFAS from all our collections where possible, and we are now in a transition period where there are mixed products in stock. The phasing out takes place continuously over time.

Examples of PFAS-free protective clothing in the range:
HOW DO I BEST CARE FOR PFAS-FREE WORK CLOTHES?
From an environmental and financial perspective, it is essential to take care of your work clothes so that they last a long time.  
It is imperative to wash the clothing regularly for warning clothing with high visibility. Protective clothing with a water- and chemical-repellent finish should be washed at an industrial laundry that helps with re-impregnation and re-activation. This is done so that the finish works just as well, wash after wash, and re-impregnation must take place in a closed system where you can take care of the chemicals in a good way. After washing, the finish is also reactivated with heat, such as tumble drying.
WHAT CAN I DO?
Keep the dialogue around PFAS in protective clothing alive. Read on and learn more.
Make demands on your supplier and require PFAS-free protective clothing when using or procuring high visibility clothing, shell and taped winter clothing, protective clothing with chemical protection (acid or base), flame retardant clothing with arc protection or regular non-CE-marked work clothing.
Read more about PFAS: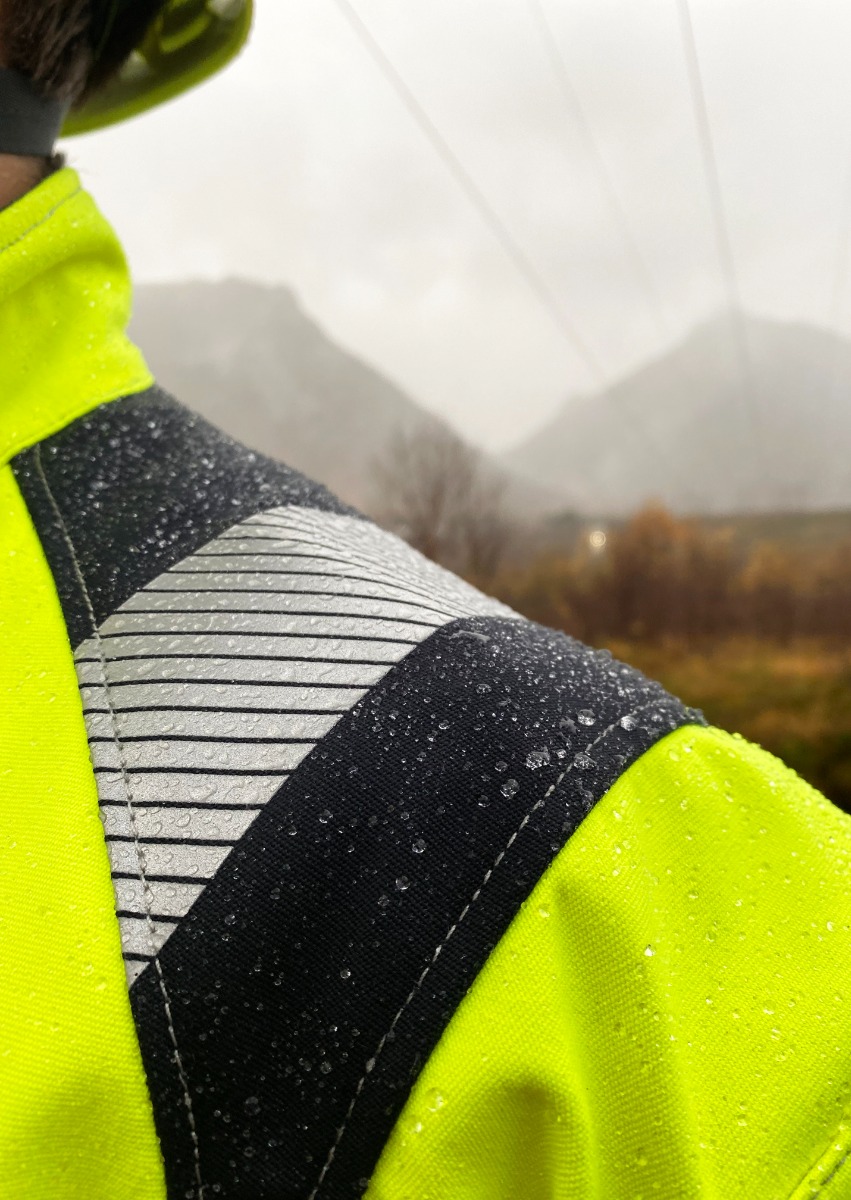 NO TO PFAS
Since 2021, we have been part of the Swedish non-profit organization ChemSecs "No to PFAS" movement to influence how chemical legislation is implemented. An important work that we are proud to be a part of.
Sweden, Norway, Denmark, the Netherlands, and Germany have, in 2023, submitted a request for a total ban of PFAS to ECHA (European Chemicals Agency). Tranemo is also behind this.